King Rama IX Funeral Commemorative Coins
HM King Bhumibol Adulyadej—more commonly known as King Rama IX Chakri — died in October 2016 at the age of 88 after a long illness. His Late Majesty was Thailand's longest-serving king. He came to the throne in 1946 at the age of 18. He was also the world's longest-serving head of state.
The commemorative coins that will mark the cremation service of the Late Majesty King Bhumibol Adulyadej are now available for order. The service is to take place on the 13th of October 2017.
The Treasury Department will start taking reservations for the four types of coins that will be available. The four types are gold, silver, bronze and cupronickel.
The profits from the sales of the coins will be presented to His Majesty King Maha Vajiralongkorn.
The Finance Minister Apisak Tantivorawong made an announcement regarding the prices of the coins
50,000 baht for the gold coin.
2,000 baht for the silver.
3,000 baht for the bronze coin.
100 baht for the cupronickel.
There is an effigy of the beloved Late King on one side of the coin and on the other side is an embossed image of the Royal crematorium building currently under construction in Bangkok.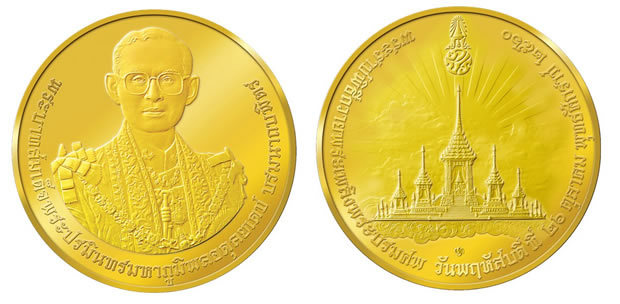 There is a limit on the number of resevations that one person can make.
One person can make three reservations.
Each reservation is eligible to purchase 1 gold coin, 2 silver coins, 1 bronze coin, and 1 cupronickel coin.
The gold silver and cupronickel coins will be available at 19 participating banks across Thailand.
The bronze coin however is only available to those who present a Thai ID card. Bronze coins can be ordered from the Treasury department head office or 76 of its office branches.
The reserved coins will be ready to be picked up from January 29, 2018.
Related links:
---

---